Regular Institutional Dialogue
Regular Institutional Dialogue
9 December 2020
Online Webinar
The current Open-ended working group (OEWG has provided UN Member States with an open and inclusive forum to discuss international cybersecurity. Identifying regular mechanism to continue dialogue on this subject is an urgent priority and may represent one of its most significant outcomes.

This session will invite discussion and inputs from non-governmental stakeholders on the topic of regular institutional dialogue in the spirit of the OEWG mandate. This includes consideration of different possible types of frameworks and institutional settings in which the international community can continue to address the issue at hands; as well as forms of meaningful participation and dialogue for non-governmental stakeholders within them.

The session will open with kick-off remarks from its co-organisers. Questions will be circulated to participants in advance in order to guide their contribution, to reflect on the current status of this topic within the OEWG but also look to models and examples from other fora. This will be an interactive, dialogue-oriented session. Participants are encouraged to be ready to go beyond prepared remarks and engage in discussion with one another during the session.

Guiding Questions

This session is co-chaired by:
Paul Meyer

Q: As Bassem has noted the forum created by the PoA could serve for consultation and provide a dispute settlement mechanism. To do so in a timely way it would have to be able to convene as required and not just in an annual meeting.

Anne-Marie Buzatu

Q: The Human Rights Council Universal Periodic Review process with state reports and independent review provides an interesting model for promoting and supporting implementation of agreed norms, even those that are "voluntary and non-binding" such as those contained in the 2015 GGE report. The PoA could consider developing a similar mechanism as a result / part of the POA. ICT4Peace has advocated this approach in its earlier submission to the OEWG. Please see https://ict4peace.org/wp-content/uploads/2020/03/ICT4Peace-Proposed-States-Cyber-Peer-Review-3.pdf

Mark Carvell

Independent Consultant in UK

Q: I would suggest POA should also report progress to the IGF throughout the year. (to Bassem Hassan)

Mark Carvell

Independent consultant in UK

Q: It will be important to see wider participation in OEWG and for it to have wider visibility. How would the Paris Call working groups relate to the POA framework if that is agreed? Also any complementarity with "IGF Plus" on action-orientated digital cooperation architecture? Very interesting and important dialogue- thanks to all involved! (to Henri Verdier)

Joe Preston

UK FCDO

Q: UK glad to support PoA initiative and believe it will provide a practical and positive contribution to the ongoing debate. Consultations with a wide range of stakeholders as envisaged in the PoA is also to be welcomed and will hopefully assist with transparency and enrich discussions....

Amir

Q: I think forexample French government have enough legitimacy and can represent French people and French private sector in multilateral fora, and other stakeholders can consult their government and also can go and participate in IGF+ then their output will be sent to the UN first committee! (to Camille Morfouace-de Broucker)

Vladimir Radunovic

DiploFoundation

Q: While most discussions about institutional dialogue focus on shaping the rules of the road, should we also consider a mechanism (part of this probably) which would be for emergency and current risks - for instance current threats for a vaccine supply chain etc? Not like UN Sec. Council (as such cases might nit be about war and int. law), but operational (though certainly not stripped off politics)? Could PoA establish such mechanism within as well?

Q: Without multilateral and regulatory framework for attribution how can you want to use self defense in cyberspace automatically? Particularly when some countries have huge cyber capabilities and have also offensive doctrines? What will happen then to principles and purposes of the UN charter? (to Bassem Hassan)

Q: What can POA do against militarization of cyberspace? What POA can do to preserve civilian and peaceful and development-oriented nature of ICT environment and cyberspace? This process only will facilitate the process of turning internet to new battlefield, you are regulating cyber warfare, the only way is specially treaty for civilian cyberspace. Otherwise how can you put global digital economy on the battlefield platform?

Paul Meyer

Q: COPUOS has 95 members I believe.

Q: I think French government have enough legitimacy and can represent French people and French private sector in multilateral fora, and other stakeholders can consult their government and also can go and participate in IGF+.

Q: Instead of PoA we need POW (program of work) we haven't shared goals, intrests and common understanding and definitions yet. We should first have a balanced normative framework and common understanding on how international law applies then after that we need legally binding framework to achieve real accountability and legal deterrence.

Amir Mokabberi

Tehran University

Q: Could we learn from positive experiences in the UN like COPOUS for cyberspace? We need to stablish the committee of peaceful digital space in United Nations to develope international treaty on Data, Governance, Security, Crime and so on , based on that we can establish ICAO-like organization for cyberspace. We need an organization like ICAO, International civilian aviation organization that cover all layer of internet. Just Like what we had The United Nations Convention on the Law of the Sea and COPOUS for outer space! (to Henri Verdier)

Q: Shrinking space for NGOs at the UN has been an issue of concern for some time. Your examples of other processes in the UNGA that are inclusive of NGOs are helpful to see. Were there specific elements/dynamics at play in those processes that allowed for that inclusivity to be established as part of the process? (Was is just willingness of member states, organized civil society activism, or something else? Anything that could be replicated to achieve space for NGOs in cyber processes?) (to Allison Pytlak)

Q: @Kerry-Ann Barrett Yes :)

Kerry-Ann Barrett

OAs

Q: Will the results of the poll be shared during the session? (to Anastasiya Kazakova)

Elizabeth Oluoch

Internet Society

Q: Thank you for highlighting some for the challenges of NGO stakeholder participation in this process. Thank you to organizers for hosting a session to engage NGO stakeholders. The UN Institutional Framework is not designed to respond to NGOs in an equal footing. This is a hard sticky point to overcome and it is precisely why multistakeholder fora are more conducive and should continue to be the places for discussions on relevant cybersecurity issues. What are some principles that could be harnessed more rigorously in this process/new mechanism that could enable more impactful stakeholder contributions and/or participation. (to Allison Pytlak)

Q: You can access the poll that the chair mentioned here: https://www.menti.com/r41g1w2c91 Voting code: 49 62 34 0

Oleg Shakirov

PIR Center

Q: Your excellency, how can engagement between non-government stakeholders help build confidence between governments that currently lack trust? (to Henri Verdier)

Paul Meyer

Q: States do not have to await five years (OEWG extension) to decide to negotiate a PoA via a GA resolution. Lets act sooner rather than later.

Jonas Grätz

FDFA Switzerland

Q: How to join the Paris Call Working Groups? Is there some formalized procedure or anything? Whom to write / call? (to Henri Verdier)

Q: How would you ensure that a RID mechanism that addresses ICTs in the context of international peace and security effectively addresses cyber capacity building, especially when cyber capacity building is an issue that involves non-state stakeholders and cuts across many areas, including development, education, gender equality, etc.? What do you think about the suggestion that the UN is not the best place to coordinate cyber capacity building? (to Bassem Hassan)

Kaja Ciglic

Q: On PoA - how could the private sector support its adoption, and how can it be reconciled with the extension of OEWG?

Joe Preston

UK FCDO

Q: Fascinating to listen in as I've been out of loop for a while. Cooperation, transparency and working together with multi stakeholders important. Breadth of experience and diversity of knowledge across civil society etc will help take debate forwards.

Q: https://front.un-arm.org/wp-content/uploads/2020/12/sponsors-oewg-concept-note-final-12-2-2020.pdf (to Camille Morfouace-de Broucker)

Oleg Shakirov

PIR Center

Q: Ms. Pytlak, from your experience, do you see regional disparities in multistakeholder representation within the OEWG? If yes, how does this affect the discussion and how it can be fixed? (to Allison Pytlak)

Q: Then Why China and US didn't advocate Paris call?

Sheetal Kumar

Q: I agree, it would be great to here more from Allison on that. In case of interest, we authored together this document on good practices re: stakeholder engagement in relevant multilateral forums: https://www.gp-digital.org/wp-content/uploads/2020/06/ngo-participationgoodpractice_gpd.pdf

Oleg Shakirov

PIR Center

Q: Your excellency, how do supporters of PoA plan to bring Russia, China, the United States onboard to endorse your initiative? How would you bridge the existing divides between the key state actors? (to Bassem Hassan)

Kaja Ciglic

Microsoft

Q: It would be fantastic to hear a little bit more on other models of engagement that Allison mentioned. This is definitely something the actors that work on cybers could learn from (i mean industry in particular)

Dan McBryde

Global Affairs Canada

Q: Good point by Bassem that it's not always clear what States are doing to implement the 2015 GGE norms. To address this, Canada has tabled the following submission on this very issue on the OEWG portal: https://unoda-web.s3.amazonaws.com/wp-content/uploads/2019/11/canada-implementation-2015-gge-norms-nov-16-en.pdf. Australia has submitted a similar explanation of how they are implementing the norms. Would you see the PoA annual meetings as a chance for States to outline what they have done to implement the norms, and their broader national efforts on cyber security? Full discolsure, Canada is a PoA co-sponsor. (to Bassem Hassan)

Jonas Grätz

FDFA Switzerland

Q: Very pertinent and useful presentation! We very much like the PoA initiative, but how do you plan to ensure universal participation in this initiative? And how do you see it fitting with the OEWG that has been decided upon at this year's UNGA by UN Members? (to Bassem Hassan)

Q: Hi! It works for me. I doublechecked with the tech team and everything seems fine. Is it maybe an audio issue of your device?

Q: HS the session started yet as I cannot hear anything?

Q: You can type your questions and comments here.

Q: Dear Participants, Welcome to this session! Please tweet about this session using #UNcyberOEWG & #LetsTalkCyber
About the Organiser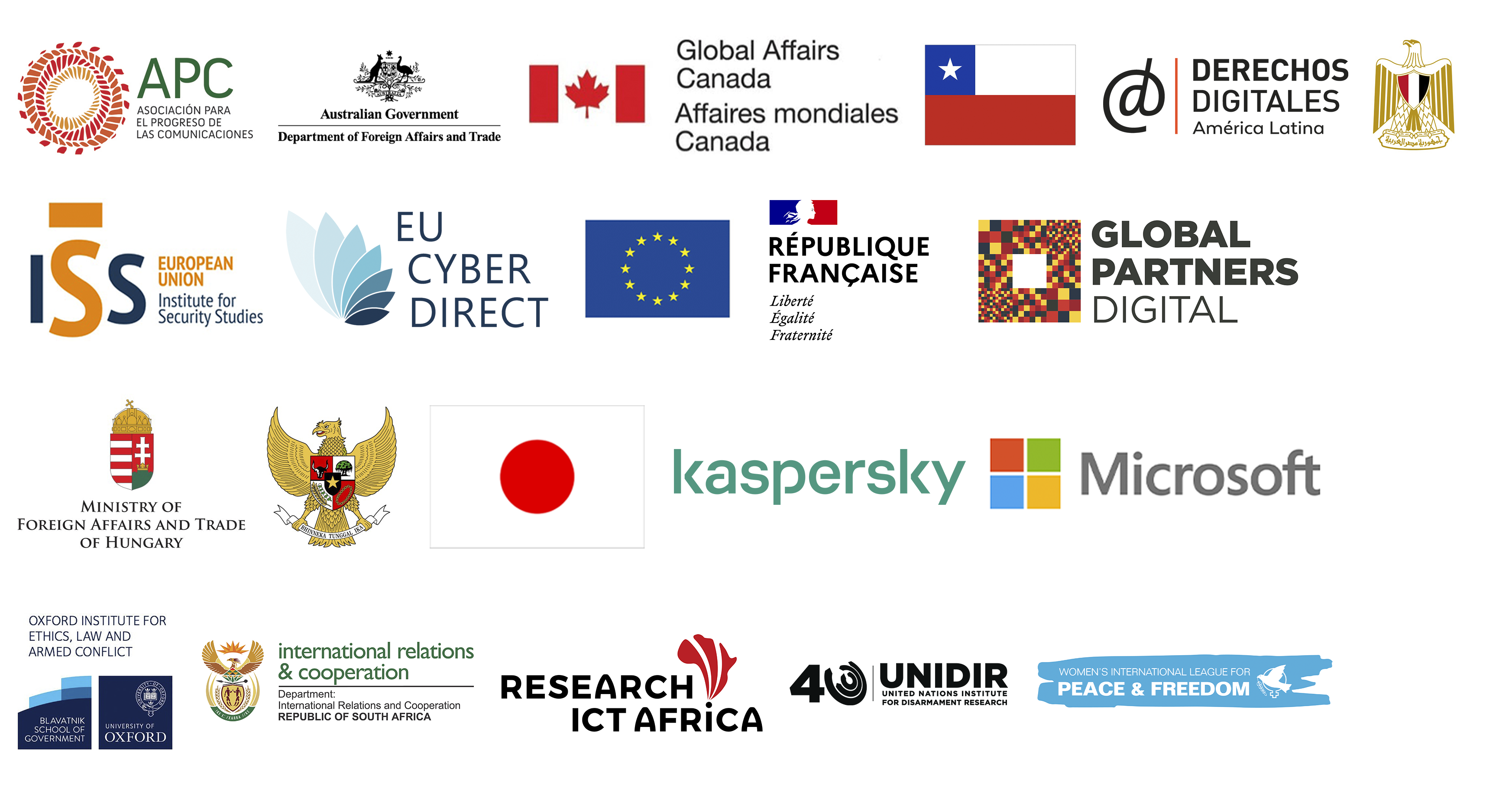 About Let's talk cyber
The objective of the Informal Multi-stakeholder Virtual Dialogue Series is to support the ongoing discussions at the UN Open-Ended Working Group (OEWG) on developments in the field of information and communication technology (ICT) in the context of international security. Taking place in a new virtual format, it is an informal event at the initiative of the multi-stakeholder community and a number of UN member states. The dialogue series is intended to complement the OEWG, but it is not a formal part of the OEWG process.
Recent Live Streams by Let's talk cyber